Home
Single tooth replacement
Single tooth replacement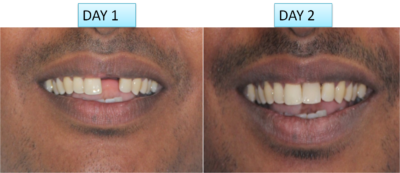 Single tooth replacement refers to placement of dental implant to replace missing or damaged tooth root. The implant attaches itself to the jawbone and acts as a new root to the crown which is fixed on to it. Implants are immediate, long-lasting solution which improves general and oral health of the individual.
Benefits of single tooth replacement:
 *Looks and feels like natural tooth
*Immediate fixed teeth on same day or next day
* No need to sacrifice the structure of the remaining natural teeth
*The jaw bone is better preserved
*Easy to clean
How it will be done?
At International Dental Implant Center We have specific, predefined processes for single tooth replacements that involve,
Initial consultation,
Treatment planning with digital photographs and radiographs
General medical history of the patient are obtained prior to the treatment.
Treatment options, goals and expectations of the procedure are discussed
Thereafter, under painless local anaesthesia dental implant is first placed
The implant and the bone are allowed to integrate over a period of time.
Fixed provisional tooth given on same day or next day of treatment to restore aesthetics and function
After healing, permanent zirconia crown is fixed
The Center believes that each case is different and has to be approached distinctly, which requires a combination of steps to get the best desired results. Dr. Murugavel and his team of dental professionals work closely with the patient to achieve the coveted outcomes.
Related Links:
Full teeth replacement with dental implants
Before and after treatment photos