Home
Allon 6 dental implants
Allon 6 dental implants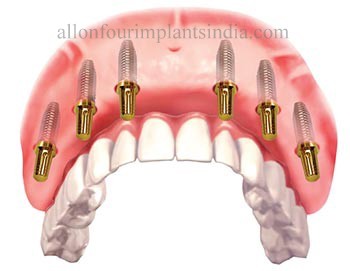 What is all on 6 dental implants?
Dental implants are used to replace your teeth when you lost all or most of the teeth. All on 6 dental implants provides fixed full arch teeth anchored by 6 implants. It involves specifically designed dental implants that are available for immediate function.
For patients who are missing all their teeth a combination of all on 6 or all on 4 dental implants can be used to restore a full set of teeth in India.
Benefits of all on 6 dental implants:
Immediate loading,
No waiting period to get fixed teeth
More secure and comfortable
Faster healing
Less maintenance required
Less invasive
What is the procedure for all on 6 dental implants:
– Clinical evaluation, digital x-rays (OPG,CBCT) and digital impressions will be done to determine proper treatment plan and to fulfil your personal needs.
– Implant surgery: removal of unhealthy teeth and placement of all on 6 dental implants under local anesthesia or conscious sedation(depends on individual preference)
– Provisional fixed teeth can be fixed in 3-4 days
– Healing of implants will takes place for 3-6 months(osseointegration)
– Permanent teeth (zirconia, metal ceramic, metal composite) fixing after 3 -6 months
Case report:
68years old male patient came to our clinic for replacing his shaking and missing upper teeth. After clinical and radiographic examination we adviced upper full teeth replacement with allon 6 dental implants.
Upper all teeth removed and 6 dental implants placed under local anesthesia. Patient got fixed teeth, his smile and chewing restored.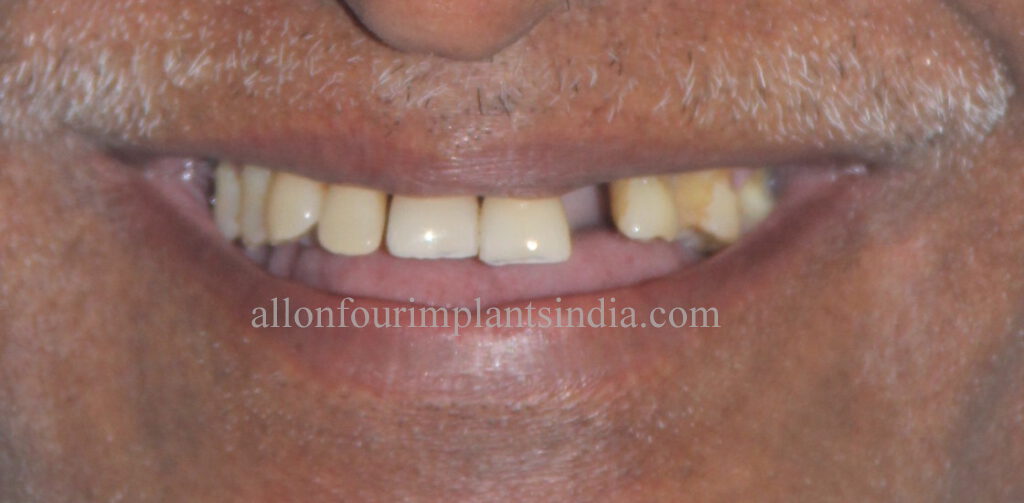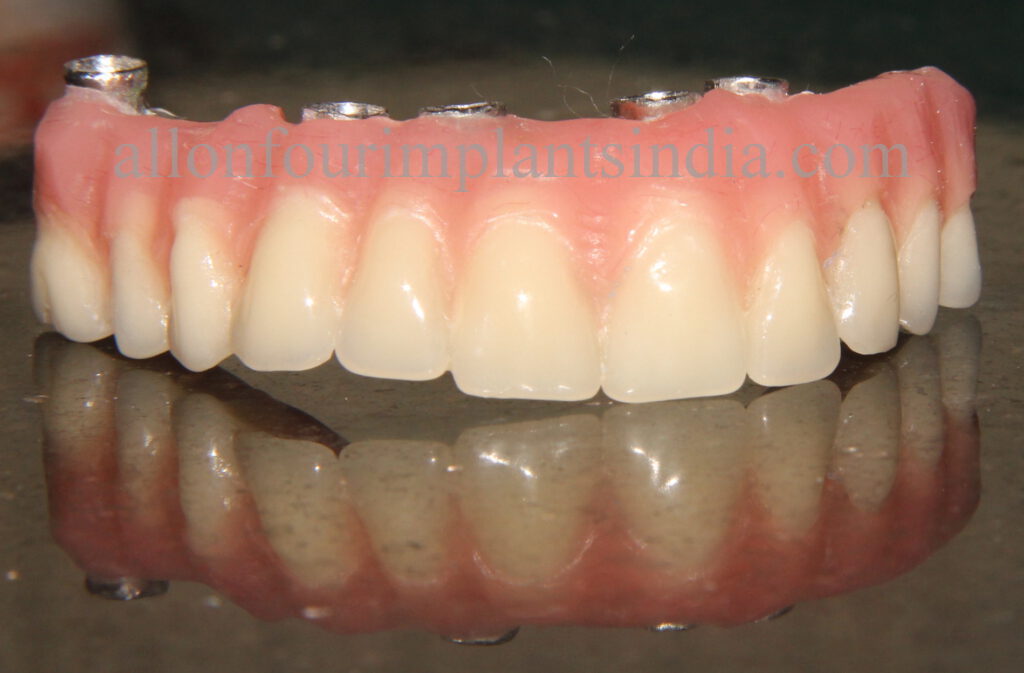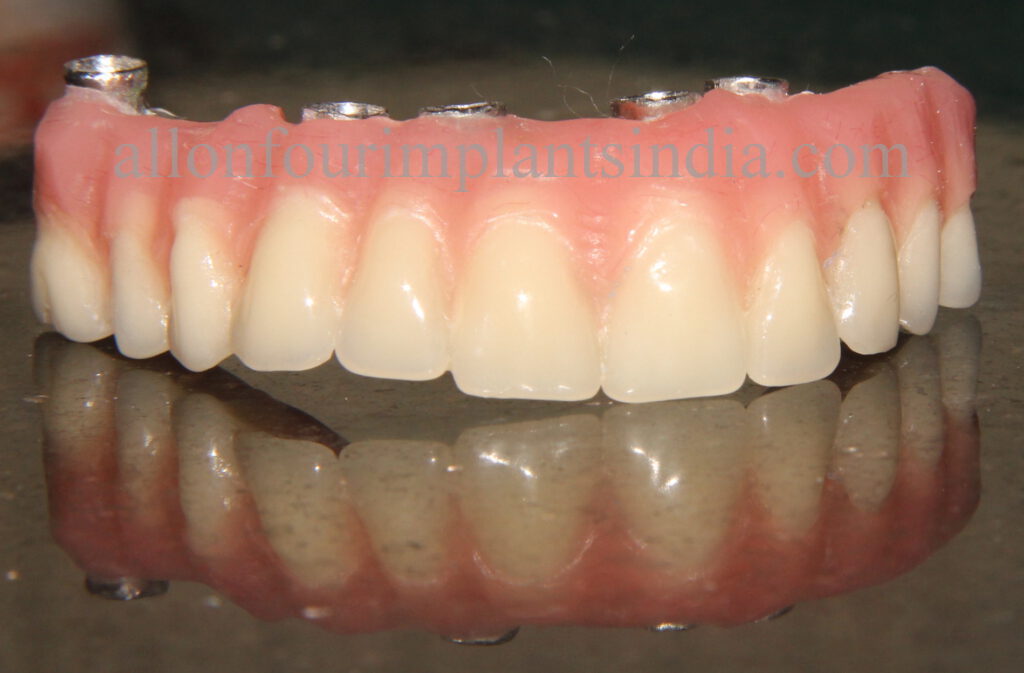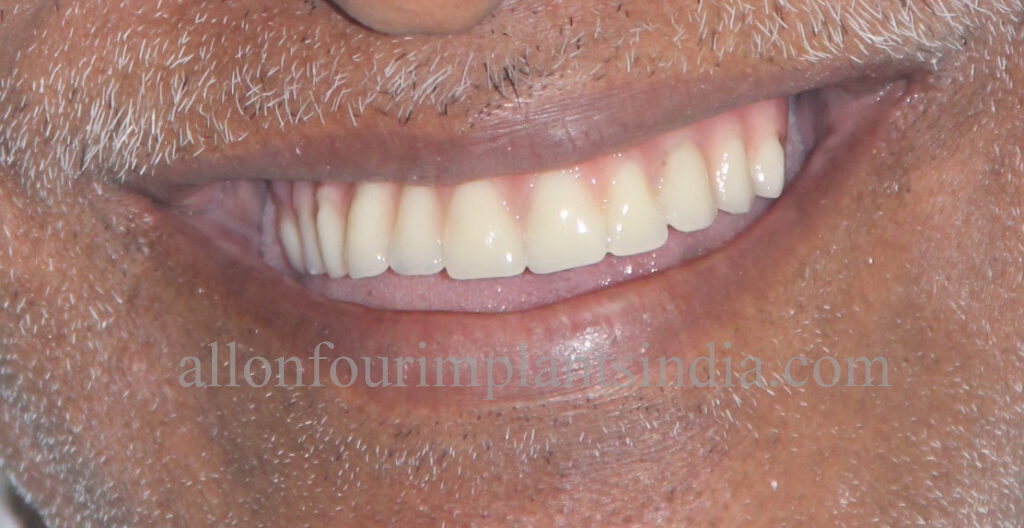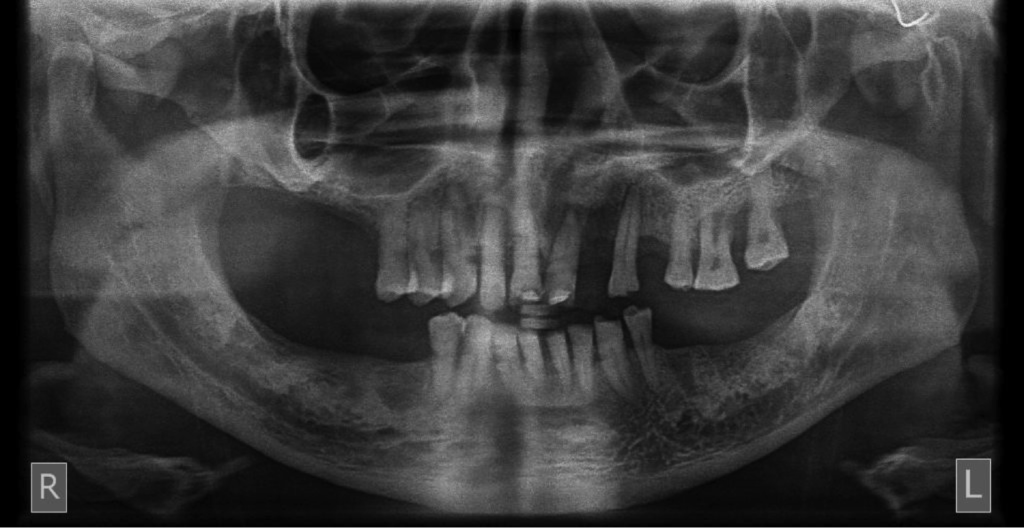 Cost of all on 6 dental implants :
All on 6 dental implants cost in India for full mouth teeth replacement are more affordable compared to implant cost in US, UK, Singapore and Australia. Treatment quality and technology are par excellence with western countries.
For full teeth replacement CLICK HERE
To know Allon 4 dental implants CLICK HERE
For further details/Appointment CLICK HERE