Home
Dr.C.Murugavel M.D.S.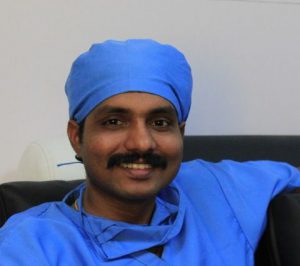 Dr.C.Murugavel M.D.S.
Oral Maxillo Facial Surgeon Implantologist
Dental Implantologist, Dental Surgeon, Cosmetic Dentist, Laser Specialist and Advanced Basal Implantologist.
ACADEMY OF CONTINUING DENTAL EDUCATION :
Dr.Murugavel,Obtained his Bachelor of dental surgery from SreeBalaji Dental College , Chennai .
Dr.Murugavel has been training many dentists all over the world in immediate loading basal implants .. His motive is to spread awareness and knowledge about immediate loading basal implants.
He persued his Master of dental surgery from Tamilnadu Government Dental College in 2006 .
Dr.Murugavel is trained extensively in IMMEDIATE LOADING BASAL IMPLANTOLOGY and has Successfully placed more than 4000 implants in his practice ..
His passion is in the field of full mouth rehabilitation with implants .His main motive is to make all patients smile happily and lead a confident life .
He got his Fellowship in dental lasers from World Clinical Laser InstituteUSA..
He performs all major and minor surgical procedures like Cyst removal , jaw surgeries etc .
Dr.Murugavel runs three leading multi speciality dental clinics in South India , Chennai .
He is a Member of Indian Dental Association ( IDA ) , Member of Indian Society of Oral Implantologists ( ISOI ) .
Has attended workshop on full arch rehabilitation with All On 4 Technique .
Has attended a workshop on edentulous implant prosthetics in 2015 .
Has attended many conferences and training programs for basal implants all over the world.
AWARDS :
Most promising dental implantologist in south india award by NDTV PROFITT .
Most promising implantologist in tamilnadu award by health care excellence awards .
Best Cosmetic dentist in south india award by National dental excellence in 2014 .
Award for quality dental implant surgeries by Global Quality awards in 2015
AWARDS VIDEOS
Business & Service Excellence Awards 2012
Global Quality awards in 2015
ACHIEVEMENTS
Most Promising Dental Implantologist in South India
Award for quality dental implant surgeries by Global Quality awards in 2015
NDTV – Business & Service Excellence Award 2013