Home
Immediate dental implant
Immediate dental implant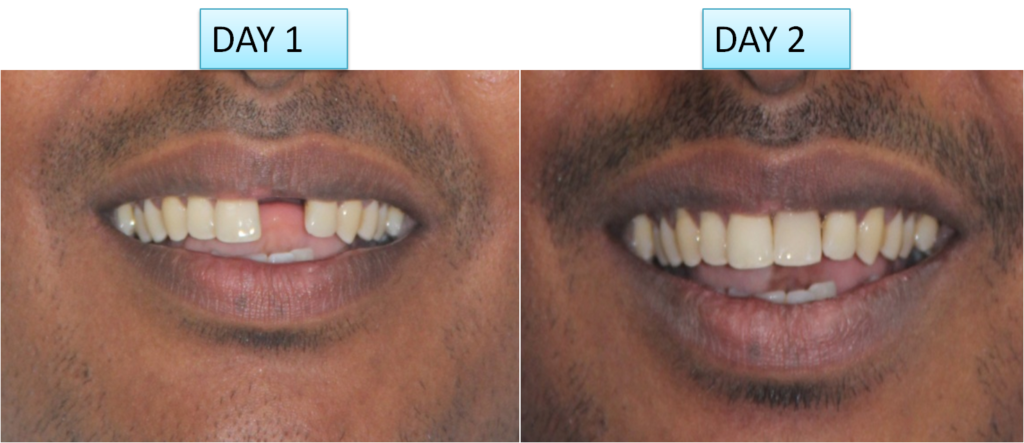 Fixed teeth in a day possible?
Less or no bone for dental implant?
Implant placement immediately after extraction possible?
What is immediate implant loading?
Implant placement and fixed teeth immediately after tooth extraction .
With this technique single and multiple teeth replaced and fixed teeth given on same day. Likewise for upper and lower full set teeth replacement fixed teeth given in 3-4 days.
We are regularly using immediate loading implant system in which implant and teeth can be given immediately.
In rare situations when bone quality is severely affected by infection, we advice to remove tooth and infection first. And implant placement after 2- 3 months for better life time of dental implants.
Benefits of immediate teeth with dental implants:
No need to wait for 6 months – 1 year to get fixed teeth
Chewing restored immediately
Short duration
Multiple appointments avoided thereby reducing total treatment cost
Better long term results
Bone shape and quality preserved
Sequence of Immediate dental implant :
Removal of damaged teeth and dental implant placement on same day
Digital measurement of teeth
Single or multiple teeth : provisional teeth fixed on same day or next day of implant placement
Full upper / lower arch teeth : provisional teeth fixed on 3 – 4 days of treatment
For full teeth replacement with dental implants CLICK HERE
Cost of dental implants CLICK HERE
See what are patients are saying CLICK HERE
For more details/ appointment CLICK HERE