Why All on 4?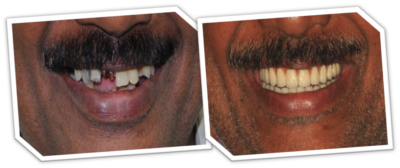 Less number of dental implants with all on 4:
                  All on 4 dental implant for full teeth replacement needs only 4 implants in the upper arch and 4 implants in the lower arch.
                In some situations where the bone quality is severely compromised it may need additional implants depends on individual needs.
Immediate fixed teeth by all on 4:
               After dental implant placement fixed teeth given immediately in 3- 5 days. So that your smile and chewing restored immediately.   
Quick improvement in quality of life:
                   As a result of immediate fixed teeth your chewing efficiency, smile, self esteem and self confidence restored  thereby your overall quality of life improves.
Avoid complex surgeries with all on 4:
                 Dental implants are engaged in good cortical bone. In addition tilting of back side implants avoids complex surgeries like sinus lifting and bone grafting. And also longevity of the fixed teeth improved by this method.
Shorter treatment duration:
          Avoiding complex surgeries reduces the total number of visits and ensures faster recovery. Fixed teeth given in 3- 4-days.
Affordable costs:
        Cost of dental implants in India are 60 -70% less when compared to cost in US, UK, Australia and Singapore. Complex surgeries are avoided and with minimal appointments implants can be done at affordable cost in India. 
Improved Appearance
            Improved appearance has a positive effect and improves self confidence in a person. It results in natural and healthy smile.
Easy to maintain and Clean
                      Implant supported fixed bridge  is designed in such a way that is well polished and smooth. So it is easy to clean and maintain the oral hygiene properly. 
Related searches: