Home
All on four dental Implants in India
All on four dental Implants in India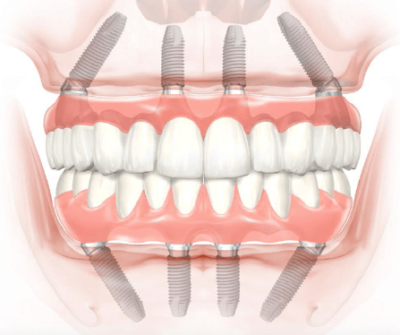 Allon four dental implants in India refer to replacing upper or lower full teeth with only four dental implants in one jaw. Less bone or no bone situations are successfully treated by allon four dental implants technique. Permanent teeth fixed within 3-5 days. With this unique technique, good implant stability achieved with fewer implants. And also complicated surgical procedures like bone grafting and sinus lifting are avoided. 
                       For full teeth replacement,  there is no need for implant under each tooth. To have a strong foundation, two implants are placed in the front tooth region and two are placed behind in an intended angle. Implants when placed in this particular angle, helps in preventing bone grafting, and also parts of the jawbone which are typically in poor quality are taken care of.
                  Another advantage of All on four dental implants in India is that it is designed according to the optimal functional and aesthetic principles of dentistry. It simplifies maintenance and hygiene and thus is a versatile way of dental implantation.
Why Choose All on Four Dental Implants?
Less number of implants – 4 implants for the full upper teeth and 4 implants for the full lower teeth
Shorter treatment duration:
Takes only 3 -5 days for complete treatment when compared to other implants
No need for bone grafting and sinus lifting
Better appearance
Provides a natural and healthy smile thereby improving the appearance
Affordable price
Allon 4 dental implants  done in affordable cost compared to conventional dental implants
All on 4 implants are safe for diabetics, hypertensive and smoking patients
Clean and easy to maintain
Since it involves only 4 implants and hygienic design it is easy to clean and maintain oral hygiene.
All On 4 Dental Implants Procedure
               After complete clinical and radiographic examination treatment plan will be discussed based on individual needs and requirements. The all-on-4 procedure begins by fixing the titanium implants in the jaw bone. It can be done under local anesthesia or IV sedation based on individual preference.
               Teeth measurements will be recorded. Necessary medications will be prescribed to ensure a painless post-treatment period and faster healing. Allon four treatment is a less invasive procedure with quick recovery time.  Thereafter, provisional teeth are fixed on 3-5 days of time. 
                  All on four dental implants in India is an extraordinary procedure that provides a permanent alternative to dentures. 
Related searches: