Home
All on four dental implants in Chennai, India.
All on four dental implants in Chennai, India.
Date : 05/22/20
Dental implants are artificial root like structures made up of titanium, which is used to replace missing teeth.
Not every individual are same. Some will require replacement of 2 or 3 missing teeth.
While some will require replacement of all the teeth in the jaw.
So when it comes to replacement of all teeth in the jaw or a full mouth rehabilitation, the number of implants needed is the main key factor.
Number of implants needed to replace all the teeth in one jaw either upper or lower does not remain same of all the individuals.
Depending upon the clinical condition, bone availability, and bone quality the number of implants required differ from person to person.
What is all on four dental implants?
As the name suggests, all on four dental implant system uses 4 implants to replace all the missing teeth in one jaw.
Two implants are placed in the front teeth(anterior) region and two are placed in the back teeth(posterior) region.
The anterior implants are placed straight.
While the implants in the posterior region are tilted to 45 degree.
Can 4 implants replace all the teeth in one jaw?
Yes, since these posterior implants are tilted they provide a greater support to replace all the teeth with minimal implants.
Advantages :
Bone grafting and sinus lifting is not required
Minimal surgical intervention
Shorter treatment duration
Immediate function(chewing)
Better and faster healing
Better appearance
Safe on diabetic, hypertensive and smoking patients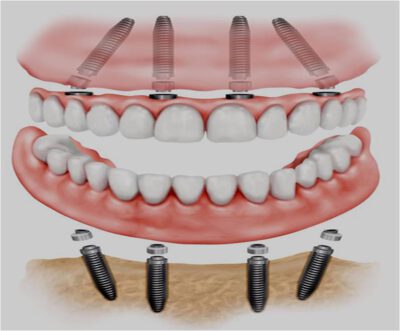 Who will require all on four implant treatment?
Person with no teeth in either one or both the jaws.
When only 2 or 3 teeth are present in one jaw.
When all the remaining teeth are shaking.
Patients with minimal bone.
Individuals who are not so comfortable with removable dentures.
Patients with shaking tooth supported bridges.
Implant procedure:
After a complete clinical examination dental x-ray(OPG) is taken to analyse the condition.
But in most of the cases a 3D x-ray(CBCT) is taken to see the exact quantity and quality of the bone available.
The doctor will then suggest you the possible best treatment plans.
Many patients choose to go with all on four implant treatment.
Then the procedure begins by placing the 4 implants in the desired jaw bone under local anesthesia using painless injection technique.
IV sedation is also used based on the patients preference and needs.
Following a series of painless clinical steps on the 4th day the provisional teeth is fixed for you to chew and enjoy the food.
Related links:
For further details:
Call – 9840449777
Mail – consultidic@gmail.com