Home
Teeth whitening cost in Chennai, India
Teeth whitening cost in Chennai, India
Date : 05/10/20
 Teeth whitening is a simple procedure which helps you to get rid of the brown color stains on your teeth.
Many of us are aware of this procedure, irrespective of the age most us want to clean and whiten our teeth.
Teeth cleaning(scaling) and teeth whitening(bleaching) are two different procedures.
Basically teeth cleaning uses a mechanical instrument to remove the dirt from the teeth, While in contrast, bleaching uses a chemical agent to remove the stains.
Every individual will require a routine teeth cleaning periodically, but not everyone will require a bleaching.
Who will require bleaching?
Generally people with discolored teeth will require bleaching.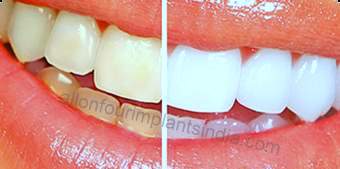 Causes of discolored teeth:
There are many causes for discoloration of teeth but the most common causes are,
Poor oral hygiene
Tobacco (smoking, pan chewing etc)
Colored foods and drinks ( Tea, coffee, wine, food colors etc)
Fluoride ingestion
Certain medications
Ageing
Teeth whitening procedure:
Bleaching is a safe procedure, but it is contraindicated in children, pregnant women, People with severe attrition and sensitivity
Prior to the bleaching procedure a full mouth cleaning is done.
After which the gums are protected and a whitening solution is applied onto the teeth and bleaching is completed.
Bleaching can be done only on natural teeth while it is not possible on crowns.
Here is a case presentation of a patient who got his teeth whitened in a day.
Patient complaint:
A 41 years old male patient from Tindivanam came to our clinic with a chief complaint of bad breath and brown color stains on his teeth and he wants to whiten his teeth.
Patient is a chain smoker and also has the habit of pan chewing.
Patient was accompanied by his friend because of whom he came to know about our clinic and he also added that he has to return to his place on the same day.
On clinical examination:
Patient presented with severe calculus and stains in all his teeth.
Generalized attrition and abrasion along with Gum recession.
Digital photographs and x-rays were taken
Before treatment image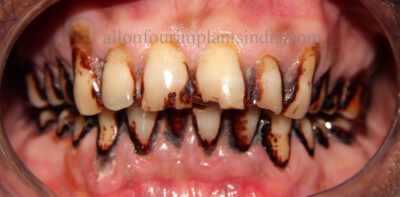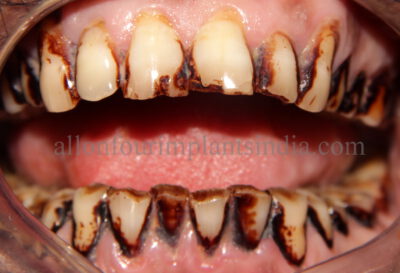 Treatment plan:
Taking his time into consideration, treatment plan suggested to him was full mouth scaling and teeth whitening.
Treatment done:
In short after a proper scaling and bleaching now he has a bright and shining teeth to smile.
After treatment image:


Related links:
Smile designing with composite filling
You tube link:
To see our patients testimonial
For further details:
Call – 9840449777
Mail – consultidic@gmail.com